Jak to mówią lepiej późno niż w cale. Mam za sobą około pięć godzin gry i mogę powiedzieć, że tytuł urzekł mnie swoim klimatem, rozmachem otwartego świata i mechanikami ale to zaraz. Jest to kolejny mocny tytuł na wyłączność dla konsoli Japończyków ale niestety nie pozbawiony problemów.
Fabuła (bez spojlerów)
Krótko o fabule. W grze od studia SCE Bend Studio wcielamy się w członka gangu motocyklowego Deacona St. Johna, który wraz z przyjacielem Boozerem podróżuje po północno-zachodnim wybrzeżu Ameryki Północnej. Akcja Days Gone rozgrywa się 2 lata po wybuchu epidemii, która pozamieniała większość populacji w świrusy (zombie). Nasz protagonista próbuje poradzić sobie w tym zniszczonym świecie opanowanym przez świrusy a co gorsza przez naprawdę chore frakcje jak np. wieczyści i odnaleźć swoją ukochaną, która zraniona odleciała helikopterem do obozu uchodźców na samym początku zarazy. Główny bohater nie należy do żadnego obozu ocalałych tylko jest tzw. "włóczęgą" czyli wykonuje zadania dla wszystkich obozów w zamian za ulepszenia sprzętu, jedzenie i lekarstwa.

Rozgrywka
Czym mnie urzekło Days Gone odnośnie rozgrywki? Najbardziej to realnością przemieszczania się na naszym motocyklu. Model jazdy nie jest zbyt prosty, nasza maszyna ma swoje cechy takie jak: wytrzymałość, głośność, wielkość baku i szybkość. Oprócz tego czuć, że nie jest to lekki pojazd; naszego rumaka bardzo łatwo zepsuć, nie można nim skakać jak w jakimś "The Crew" przynajmniej na początku przygody. Motocykl trzeba w miarę często naprawiać na szczęście materiały do naprawy są łatwo dostępne w świecie gry trzeba tylko troche poszukać. Na razie przed hordą tylko uciekałem, nie miałem jeszcze okazji zawalczyć ponieważ z początkowym uzbrojeniem byłoby to bardzo trudne szczególnie, że gram na poziomie trudności bardzo trudnym.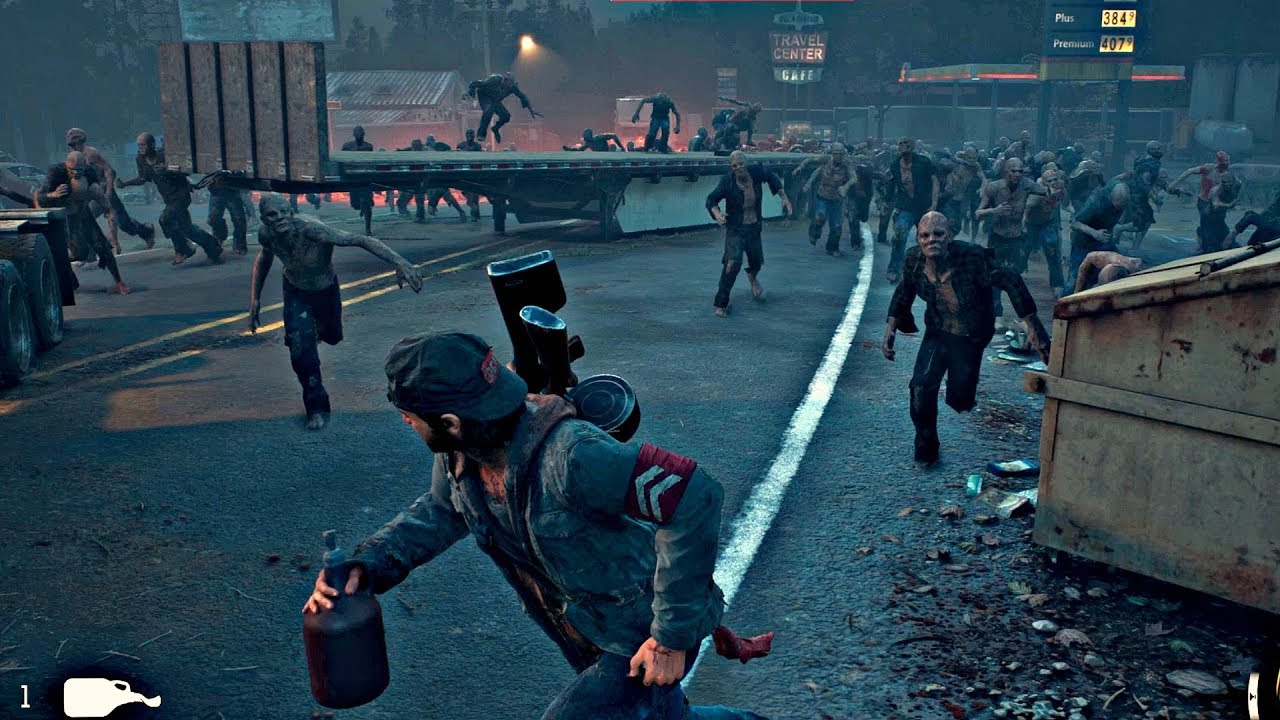 Jedyną rzeczą, która prawie mnie odrzuciła były glitche. Już w pierwszej misji dwa razy musiałem ładować punkt kontrolny ponieważ za pierwszym razem motocykl utknął na drzewie ( nie wiem jak) a za drugim razem Boozer nie chciał podejść do samochodu, który mieliśmy przepchać. Pomimo tego w grę się wkręciłem i możecie spodziewać się recenzji w ciągu dwóch tygodni.