Firma NAVITEL®, dostawca wiodących rozwiązań dla kierowców prezentuje nowe akcesorium. Do regularnej oferty dołączył uchwyt samochodowy, model SH1000 PRO, z wbudowanym ładowaniem indukcyjnym.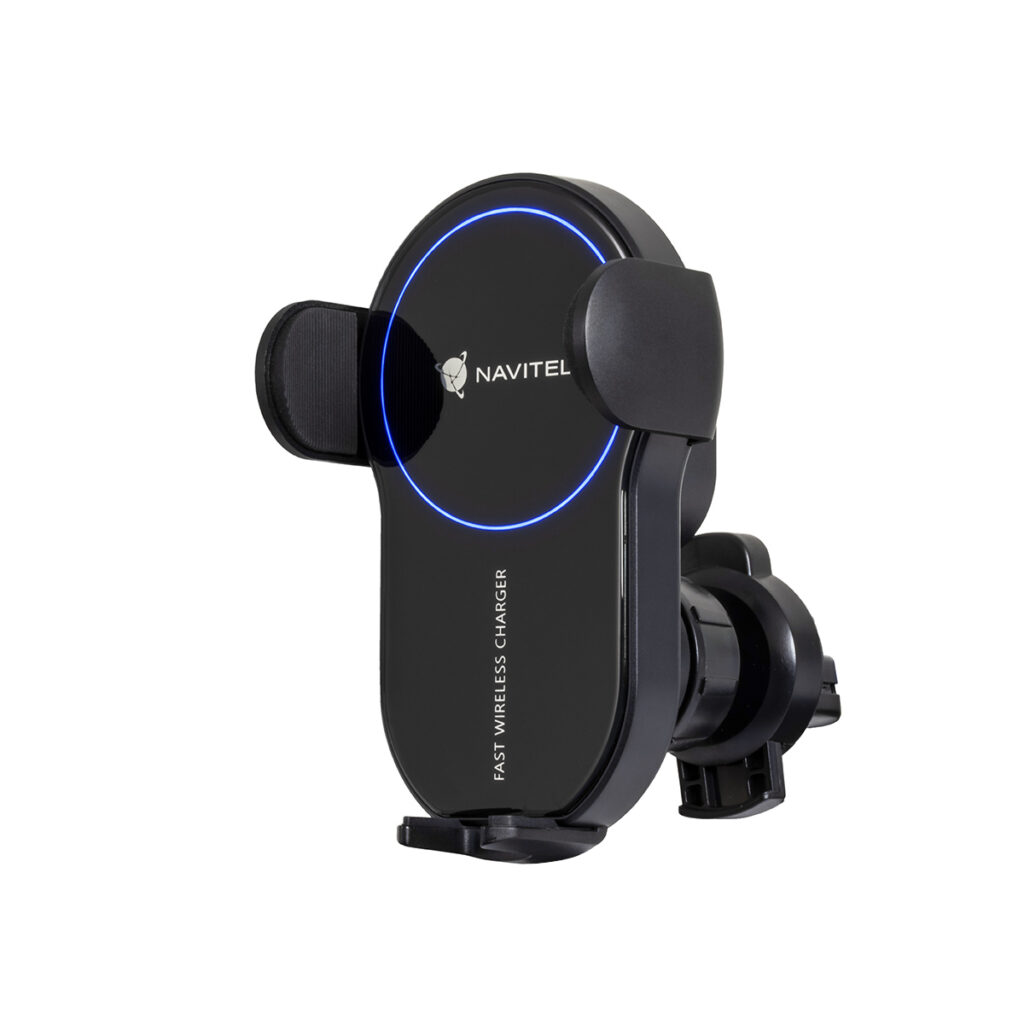 NAVITEL SH1000 PRO to grawitacyjny uchwyt samochodowy z funkcją ładowania bezprzewodowego. Sprzęt należy zamontować na kratce nawiewu w aucie, korzystając z klipsu dołączonego do zestawu. Uchwyt rozpozna telefon automatycznie i otworzy ramię, którego maksymalna szerokość wynosi 82 mm. Przycisk sterujący umożliwia samodzielne ustawienie akcesorium. Maksymalna moc ładowania uchwytu indukcyjnego to 15W. Urządzenie zapewnia ochronę przed zwarciem i przegrzaniem. SH1000 PRO wyposażono w złącze USB-C, do którego możemy podłączyć ładowarkę o określonych parametrach: 5 V, 3 A; 9 V, 2 A; 12 V, 2 A; QC 2.0; QC 3.0.
Akcesorium może służyć jako uchwyt do telefonu bez funkcji ładowania bezprzewodowego. Specjalny kształt dolnego ramienia zaciskowego umożliwia podłączenie kabla bezpośrednio do smartfonu.
"Smartfon to obecnie urządzenie, bez którego wiele osób nie wyobraża sobie codziennego funkcjonowania. Wprowadzenie do sprzedaży uchwytu SH1000 PRO to ukłon w stronę konsumentów, którzy podczas planowania dalszych wyjazdów bądź krótkich tras w mieście potrzebują dodatkowego źródła zasilania. Nowe akcesorium w ofercie NAVITEL wyróżnia się wyglądem oraz łatwością użytkowania. Co istotne, uchwyt znajdzie zastosowanie także w smartfonach bez opcji ładowania indukcyjnego. W niedalekiej przyszłości planujemy rozbudowę portfolio o kolejne, innowacyjne gadżety dla kierowców" – opowiada Tobiasz Jankowski, CEO NAVITEL EUROPE.
W zestawie z urządzeniem umieszczono: uchwyt montowany na kratkę nawiewu, nakrętkę mocującą, kabel USB typu C, instrukcję obsługi oraz kartę gwarancyjną. Szczegółowa specyfikacja produktu znajduje się na oficjalnej stronie internetowej producenta. NAVITEL SH1000 PRO jest już dostępny w regularnej sprzedaży i serwisie Allegro. Sugerowana cena – 159 złotych.