Tank Battle Heroes to mobilna gra dostępna również w wersji na PC. Różnią się one głównie tym, że w wersji mobilnej namierzanie przeciwników jest automatyczne a na komputerze musimy sami się postarać wycelować w czołg przeciwnika.
Tak jak nazwa wskazuje w grze walczymy czołgami. Tytuł podzielony jest na dwa tryby: kampanię dla jednego gracza i tryb wieloosobowy. Misje w trybie dla jednego gracza są dosyć proste, głównie chodzi o wyeliminowanie określonej liczby jednostek przeciwnika. Za wykonanie misji otrzymujemy walutę, którą możemy wykorzystać do ulepszania naszego czołgu, zakupu nowej maszyny lub wykupienia wzmocnień bezpośrednio przed misją.
Zaraz po odpaleniu gry wyświetla nam się główny interfejs a w centrum widnieje nasz czołg. Mecze wieloosobowe składają się z czterech graczy walczących każdy na każdego. Czas misji jest bardzo krótki więc jest to idealna gra na przerwę między zajęciami czy po prostu do odstresowania. W produkcji znajduje się 7 maszyn do odblokowania, z czego dwa czołgi są dostępne za walutę premium, którą można kupić lub zdobywać wypełniając misje. Jest to trochę pay2win ale osobiście nie byłem w sytuacji gdzie czułem, że jestem słabszy pod względem sprzętu.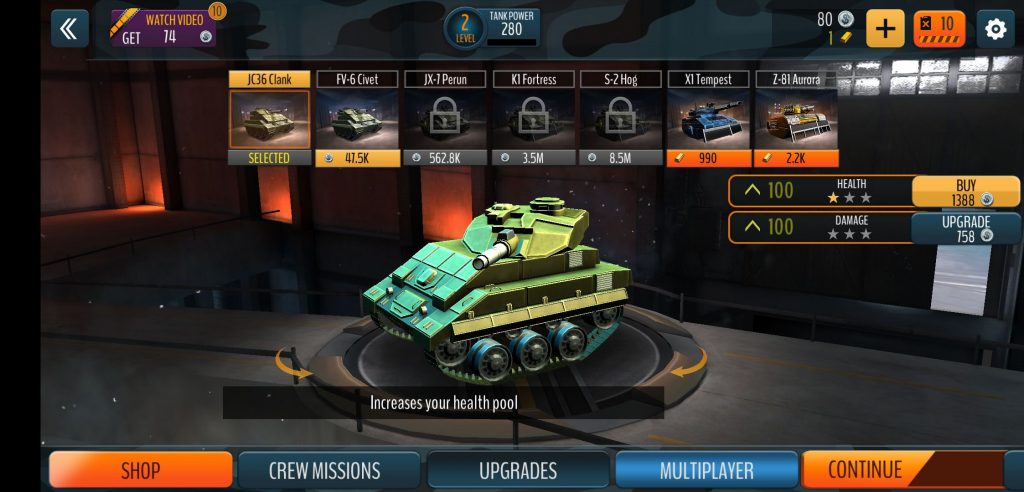 W grze nie zabrakło mikropłatności służących do wyłączania reklam, które skutecznie przeszkadzają w rozgrywce. Osobiście uważam, że Tank Battle Heroes to dobra gra na przerwę lub odmóżdżenie się po ciężkim dniu. Polecam sprawdzić. Gra jest dostępna w Sklepie Play jak i App Store.